Return to Version 17 Release Notes index.
HD Rendering.
Set your camera, lighting and colours as normal. Once you are happy with the camera position, select "HD Rendering" under "View" - "3D Options".

NOTE: If "HD Render" is greyed out and cannot be selected, your dongle needs to be upgraded. Please contact Client Care on +44 (0) 1923 888 101.
HD Rendering uses a more realistic lighting model. The cost for a more realistic render is the time taken to produce the image. The more reflective or curved surfaces in the design, the longer it takes to render.
When starting a HD Render ArtiCAD performs some initial calculations during which the screen is white. This can take several minutes depending on the quality level.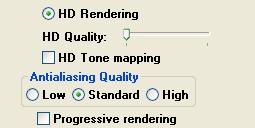 You can reduce the time taken for the render by reducing the quality. Slide the quality bar to the left for lower quality, to the right for higher quality.
Some example timings, using an AMD Quad-core system.
Default (25%) - 1 minute 30 seconds.
Half (50%) - 10 minutes 45 seconds.
Full (100%) - 22 minutes 15 seconds.
HD tone mapping - produces a more "even" lighting effect, reducing glare. However if the design contains a lot of light colours (e.g. white gloss cabinets) it can result in a very dark image.
Antialiasing quality - "aliasing" results in colour banding across a surface. If you find the render appears banded or stripey, increase the antialiasing quality. Reducing the quality will increase the speed of the render.
Progressive render - the standard render draws from the top of the screen, line-by-line. Progressive rendering quickly produces a low-resolution render which gradually increases in quality over time. This allows you to see an approximation of the render in a short amount of time to check lighting, colouring etc. However the total rendering time is longer than a standard render.
The first image below is a standard Photo-realistic render. The second is the same view rendered in high-quality HD.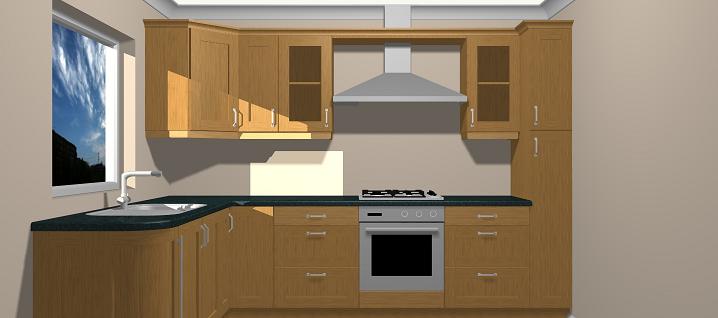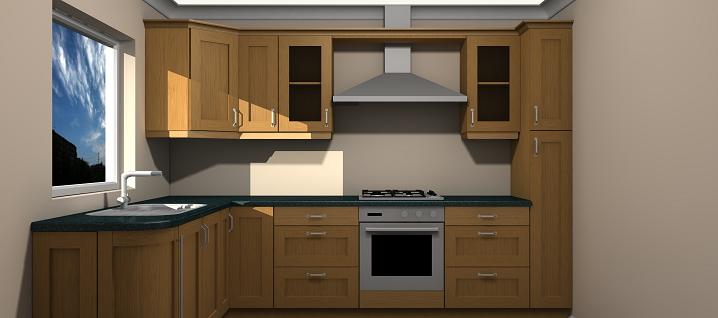 Return to top.